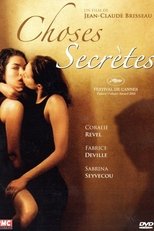 Pasiones secretas - Secret Things
Una noche, al acabar su turno, Sandrine es despedida del local de striptease donde trabajaba como camarera, justo en el mismo momento que también despiden a Nathalie, una de las stripper. Las dos jóvenes no tardan en congeniar y en compartir confidencias y Nathalie, de cáracter frío y perverso, enseñará a Sandrine, mucho más cándida y cálida, a utilizar su sexualidad para obtener todo lo que se le antoje. Para probar sus teorías, Nathalie hará que ambas sean contratadas por una gran empresa donde trabaja Christophe, el enigmático y atractivo hijo del propietario, al cual pretenden conquistar.
The delectably twisted fable centers on two penniless but shapely young women who set out to better their social station by manipulating men.
Two young women find themselves struggling to survive in Paris, street-wise Nathalie, a stripper, and naïve Sandrine, a barmaid. Together, they discover that sex can be used to their advantage, and pleasure.
Arnaud Goujon , Blandine Bury , Coralie Revel , Dorothée Picard , Fabrice Deville , María Luisa García , Olivier Soler , Pierre Gabaston , Roger Miremont , Sabrina Seyvecou , Viviane Théophildès
France
Genre: Drama, Erotic, Francés, Francia, Sub-Español
Director: Jean-Claude Brisseau