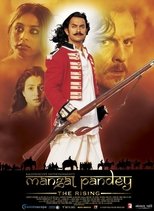 Mangal Pandey. Un hombre contra un imperio
«The Rising: Un hombre contra un imperio» es una historia épica acerca de la amistad, el amor, la pérdida y la traición con la comunidad hindú de 1857 como telón de fondo. Los gobernantes de la India colonial están explotando hasta la extenuación el país, haciendo tratos injustos con los habitantes y provocando resentimiento allí donde van. Lo peor de todo es que están utilizando a la población hindú como infantería del ejercito británico, para así poder controlar y gobernar a la población. Después de cien años de subyugación, la India está despertando a una perspectiva revolucionaria de cambio y autogobierno. Un hombre será el encargado de levantar a la población contra el Imperio opresor.
The film begins in 1857, when India was ruled by the British East India Company. Mangal Pandey is a sepoy, a soldier of Indian origin, in the army of the East India Company. Pandey is fighting in the Anglo-Afghan Wars and saves the life of his British commanding officer, William Gordon. Gordon is indebted to Pandey and a strong friendship develops between them, transcending both rank and race.
Aamir Khan , Ameesha Patel , Kirron Kher , Om Puri , Rani Mukerji , Toby Stephens
India
Genre: Bollywood, Drama, Hindi, India, Sub-Español
Director: Ketan Mehta
Tags: Aamir Khan, Bollywood, Rani Mukerji, subtitulado en español