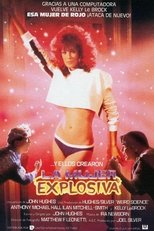 La mujer explosiva - Weird Science
Gary y Wyatt son dos adolescentes que no gozan de lo que se dice demasiada popularidad entre las chicas. Un día, aprovechando que los padres no están en casa, deciden crear por ordenador una mujer espectacular que les obedezca en todo, para poder presumir delante de sus amigos y no requerir la atención del resto de las chicas.
Two unpopular teenagers, Gary and Wyatt, fail at all attempts to be accepted by their peers. Their desperation to be liked leads them to «create» a woman via their computer. Their living and breathing creation is a gorgeous woman, Lisa, whose purpose is to boost their confidence level by putting them into situations which require Gary and Wyatt to act like men.
Alison Carole Lowe , Ann Coyle , Anthony Michael Hall , Bill Paxton , Britt Leach , Chino 'Fats' Williams , Ilan Mitchell-Smith , Ivor Barry , James Huffman , Jill Whitlow , John Kapelos , Judie Aronson , Kelly LeBrock , Kym Malin , Michael Berryman , Michael K. Washko , Prince Hughes , Rick Le Fevour , Robert Downey Jr. , Robert Rusler , Robin Frohman , Steve James , Suzanne Snyder , Suzy J. Kellems , Vernon Wells
United States of America
Genre: Ciencia ficción, Comedia, English, Fantasía, Latino, Romance, Sub-Español, United States
Director: John Hughes, Luca Kouimelis
Tags: brunette, English, latino, sexy, subtitulado en español