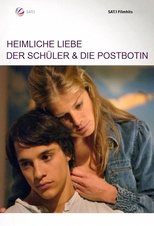 Heimliche Liebe - Der Schüler und die Postbotin 2005
Un chico de 17 años se enamora de una mujer de 37. A la notable diferencia de edad se añade el hecho de que pertenecen a clases sociales muy distintas y que, además, ella está casada.
A 17 year old boy falls in love with a 37 year old woman. As if this wouldn't be enough they are of different social classes and she is married.
Claudia Geisler , Claudia Messner , Dagmar Biener , Kostja Ullmann , Marie Bäumer , Michael Sideris , Rolf Kanies , Stephan Schill , Wotan Wilke Möhring
Germany
Genre: Alemán, Alemania Occidental, Drama, Erotic, Erótica, Romance
Director: Franziska Buch
Tags: Blonde, erotic, erotica, nude, nude scene, nudity, old and young, romance