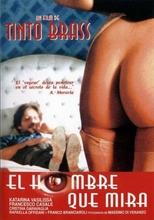 El hombre que mira - The Voyeur
En un colegio en Roma, un profesor, llamado Dodo, sufre una profunda depresión. Su mujer acaba de dejarlo por otro hombre. Dodo la quiere de regreso desesperadamente, y comienza a tener fantasías y a soñar despierto sobre ella.
At a college in Rome, a professor, nicknamed «Dodo» is in a deep depression. His stunningly beautiful wife has just left him for another man. Dodo wants her back very badly and has erotic daydreams about her. A beautiful young student in his class asks him for a ride home and seduces the lucky man, but still he wonders about his wife and her lover.
Antonio Salines , Cristina Garavaglia , Eleonora De Grassi , Erika Savastani , Francesco Casale , Franco Branciaroli , Katarina Vasilissa , Martine Brochard , Raffaella Offidani
Italy
Genre: Drama, English, Erotic, Italia, Romance, Sub-English
Director: Tinto Brass
Tags: Blonde, brunette, erotic, nude, nude scene, nudity, Sex, sex scene, sexy