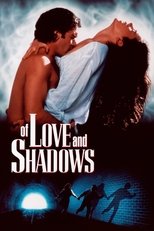 De amor y de sombra - Of Love and Shadows 1994 online
Irene Beltrán, una joven y ambiciosa reportera, pasa todos su días entregada plenamente a su revista, intentando olvidar la oscura realidad de lo que ocurre en su Chile natal. Durante un reportaje en el que trabaja con un apasionado fotógrafo, ambos son testigos de un espantoso crimen… descubriendo la verdadera cara criminal y la brutalidad del espantoso régimen chileno.
Irene is a magazine editor living under the shadow of the Pinochet dictatorship in Chile. Francisco is a handsome photographer and he comes to Irene for a job. As a sympathizer with the underground resistance movement, Francisco opens her eyes and her heart to the atrocities being committed by the state.
Stars: Alejandro Toccalino , Angela Ragno , Antonio Banderas , Camilo Gallardo , Diego Wallraff , Jacques Arndt , Jennifer Connelly , Jorge Ochoa , Jorge Rivera López , Patricio Contreras , Stefania Sandrelli
Argentina , United States of America
Genre: Drama, English, Erotic, Erótica, United States
Director: Betty Kaplan